How do you mine Cardano? Well, Cardano is not an asset you can mine. As this 2017 cryptocurrency is gaining popularity, more crypto enthusiasts have been trying to contribute to the network. Some have wanted to mine Cardano — but Cardano requires you to stake, not mine.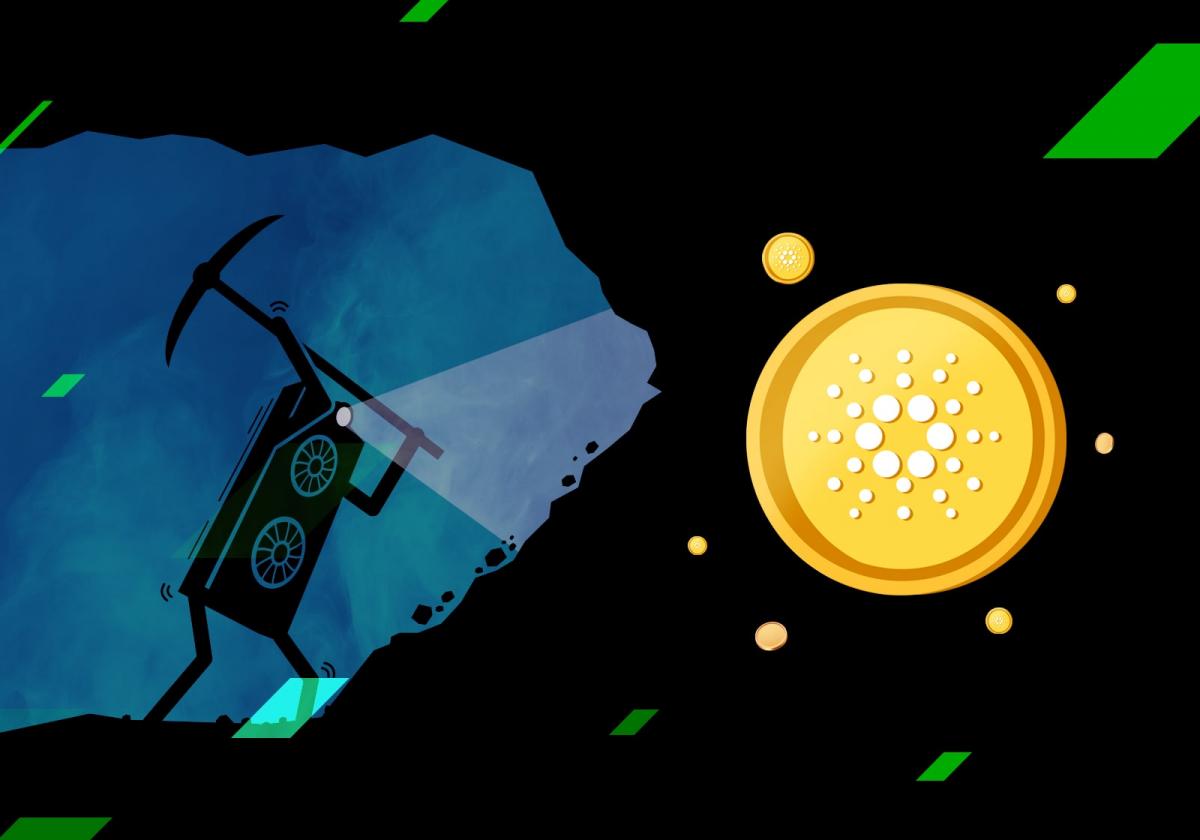 As a result, gaining ADA is straightforward. Most blockchain platforms use technology that allows regular users to stake the currency and receive rewards in return. The users get rewarded for contributing to the platform's development, and the blockchain gains potential.
What is Cardano?
Charles Hoskinson and Jeremy Wood, who co-founded Ethereum, a successful blockchain network, founded Cardano in 2017. The IOHK company was created to help with the design and distribution of Cardano.
ADA is the native currency of Cardano, a project that aims to create a better and more accessible blockchain for transactions. The ADA token has a total supply of 45 billion coins.
Cardano is built similarly to Ethereum, and it's been built with a focus on cryptocurrencies and the future of finance. The Cardano platform uses the Proof-of-Stake mechanism (POS) as opposed to Bitcoin's Proof-of-Work (POW).
How does Cardano work?
Cardano uses the PoS (Proof-of-Stake) system, in contrast to Ethereum and Bitcoin, which use the PoW system. In PoW, miners are rewarded for solving math problems, while in PoS, coin owners are credited when the blockchain is verified and generated.
POS is a more 'green' alternative to blockchain networks because it doesn't require mining, which consumes power. Using the PoS system means that blockchain development isn't dependent on hardware.
PoS blockchains are supported by staking pools of users: they use their coins to validate transaction blocks on the network, and in return they receive tokens.
The Cardano project has adopted Proof-of-Stake as its consensus algorithm and has also created a blockchain design that the team assures will make it scalable.
The network has two layers — Cardano Settlement Layer (CSL) and Cardano Computational Layer (CCL) — unlike most other networks, which operate on only one layer. The CSL layer performs and records transactions on the blockchain, while the CCL layer is the smart contract layer that performs automatic transactions.
The Cardano blockchain is designed to do things more quickly and with lower fees than other blockchains.
In today's market, most cryptocurrencies aim to find the right balance between speed, security, and decentralization, but few successfully tackle all three at the same time. One cryptocurrency that seems to be doing a good job of balancing these three factors is Cardano.
They never stop improving their platform, which makes it the perfect writing assistant to use. They also keep it up-to-date with new features so that it's always easy and safe to use.
How do mine, Cardano?
Cardano has all the green flags to be the network that will make decentralized finance available to the world. But can you mine Cardano?
The Cardano blockchain uses the Proof-of-Stake system to validate blockchain transactions. Cardano can be staked.
Then the question becomes, "How do you stake Cardano?"
Staking Cardano's cryptocurrency, ADA, is fairly simple. You need to keep your ADA in a wallet supported by Cardano. You can find here the best Cardano wallets for storing ADA.
Stake your ADA in a cryptocurrency wallet or on an exchange. This will entitle you to a share of the ADA as a reward, proportional to the amount of ADA you stake. Mining is expensive, but with Proof-of-Stake your Cardano is used for confirming transactions, so no extra cost is incurred.
Staking Cardano
Staking ADA on the Cardano blockchain is a very simple process. The more ADA coins you have and stake, the more you will receive. There are two ways to stake your ADA on Cardano: either through an in-person wallet or by using an online e-wallet.
Staking Cardano using a crypto wallet
You can stake ADA using one of three different wallets: a desktop wallet, a browser extension wallet, or a hardware wallet. After weighing your options, you can choose which ADA wallet is best for you.
You and Daedalus are two of the most popular wallets for staking ADA.
Set a new wallet name and password. This is only your first time. The name will help you distinguish your wallets in different browsers since you might have multiple. You can think of wallets as separate bank accounts that store money and make transactions, just like in real life.
The ADA's transactions are all password-protected, so changing it and making sure it's difficult to guess is important. Use a complex, long password that includes both letters and numbers. This way, you'll be able to remember what it is or store it in a safe place.
Your wallet for staking Cardano
Yoroi is a light crypto wallet that runs as a browser extension on Chrome, Firefox, and other commonly used desktop browsers. After downloading the wallet on your browser and setting up your new wallet, you will need to add ADA to your balance.
You should save your Yoroi wallet address before you send any ADA tokens to Yoroi. You can find the receiving address by clicking on the "Receive" button and then copying and pasting it from the shown text field. When sending funds, make sure you have copied the correct one.
You can search for pools with lower saturation and better growth rates from the wallet. You can then delegate by clicking "Delegate." That fee is good to keep in mind because it might end up costing you more if you switch from one pool to another.
Daedalus wallet for staking Cardano
Daedalus is a secure wallet for the Cardano blockchain. It downloads the entire blockchain onto your computer, keeping it away from any third-party issues.
After downloading and installing Daedalus, create a new wallet to store your ADA. It is also recommended to take note of your seed passphrase for future use.
As you open the Daedalus wallet, go to "Delegation Centre" and click on the "Stake pools" tab on the top.
You will have to look for an ADA staking pool. You can search for the name of the pool if you know it.
After choosing the stake pool, you can choose how much ADA you want to delegate to that staking pool.
You can click on any pool to see more information before you decide to delegate your ADA there. We recommend using a pool that is not oversaturated so that you can keep earning rewards at the maximum level.
Staking Cardano on a cryptocurrency exchange
ADA, the cryptocurrency of the Cardano network, is also available on several cryptocurrency exchanges. On an exchange, you can trade ADA in a high-volume environment with low transaction fees. Keeping track of wallets and stakes can be difficult, so having a tool to do it for you can be very helpful.
The clock is ticking daily for savers. Make sure you choose a higher Annual Percentage Yield to amplify your rewards. The rates may shift, but it's important to maximize your earning potential. As the price of ADA evolves, those who stake may be able to accumulate a massive amount of ADA.
A lot of cryptocurrency exchanges offer the ability to stake ADA directly on their exchange, including sites like Binance and Kraken. Staking ADA on Binance is fairly easy. First, you'll need to purchase or transfer your ADA tokens there, and then they'll be ready to stake.
To stake ADA, head over to Binance Staking. Search for ADA and choose the duration of staking (30, 60, or 90 days). Click "Stake Now".
Stake ADA on Kraken
Kraken has an instinctive stage for digital money proprietors to exchange their resources. As a feature of its center administrations, the trade offers digital money marking to its clients, as a method for procuring automated revenue from their Kraken wallet.
After you purchase or move ADA to Kraken, you can begin marking. There are no decent terms for the marking time frames. On Kraken, the APY is around 4-6%, and the marking is adaptable. That implies you can unstake your resources at some random time.
Kraken is one of the most mind-blowing cryptographic money trades to involve assuming that you need an adaptable marking course of action for Cardano.
Presently you know how to begin marking ADA
Keep in mind, that you can't mine Cardano, however, you can stake it. It is one of the most outstanding cryptos to stake, as it has a strong task, and its originators and the IOHK organization have embarked to make it a central organization for the decentralized future.
On the off chance that you as of now have a specific measure of ADA or you essentially need to know how to expand your crypto portfolio, you will find marking simple and accommodating. Eventually, if you need to add to the progress of a blockchain, you will take part all the while, in any case on the off chance that it's mining or marking.